With the Name of G-d, Most Merciful Benefactor, Most Merciful Redeemer
<![if !vml]>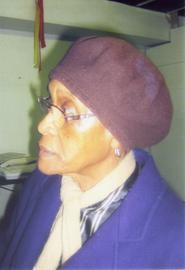 <![endif]>
Ruby

Ameenah

Muhammad Abdullah
   Sister Ruby A. M. Abdullah was born February 25, 1930 in Crawfordsville, Arkansas to the late Mr. Arthur and Gertrude (Polly) Jackson.
   Sister Ruby has been an activist in the cause of G-d for over 25 years. She became a Muslim back in the 70s and has been a strong supporter of the Mosque Cares under the leadership of the late honorable Imam W. D. Mohammed.
   Sister Ruby has written a book entitled "The Power of Mother Love" and was in the process of writing another one.
   Sister Ruby returned to G-d at the age of 79 in the early morning hours of April 22, 2009.
   Sister Ruby was preceded in death by her parents Arthur and Gertrude (Polly) Jackson, and brothers Arthur Jackson II and Allen Jackson.
   She leaves to cherish her memories her husband Charles Abdullah, two sons Ladell Thomas and Leroy Muhammad, daughter in laws, son in laws, sister in laws, a host of grand children and great grand children, one great great grand child, nieces and nephews, cousins and other relatives and friends; and perhaps most of all, her faith family of Muslim brothers and sisters.